Patient handling and transfer systems (aka Hoyer) are used to move mobility challenged individuals in a safe and dignified manner.  Bullock Access offers solutions that encourage improved care, quality of life, and mobility for both patient and caregiver.
Many injuries happen to caregivers when they need to move someone who has limited mobility.  This can happen in any setting, whether in a hospital, long term care facility, or at home.  These injuries many times can be prevented.  Our job is to guide you to make sure you get the safe patient handling and mobility equipment which works best for you.  We are concerned with the safety and comfort of both caregivers and patients.  The correct transfer lift can reduce the incidence of handling-related injuries among caregivers.
Portable, fixed, free standing, and bariatric ceiling lifts
Quiet operation
Designed with caregivers in mind with minimal effort to operate
Safe, comfortable and dignified transfers
Lift capacities range from 300 – 1000 lbs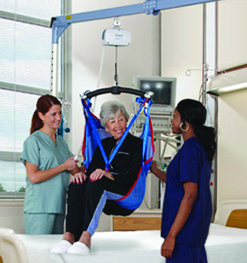 With an overhead ceiling lift, difficult patient transfers are made easier and more comfortable for both the caregiver and the patient.
Portable Lifting Motors
Portable ceiling lifts are the best style when the lift needs to be used in different rooms. They are easy to move and can be disconnected and reconnected to other ceiling tracks. This allows for an economical way of lifting and transferring in multiple locations using only one portable motor.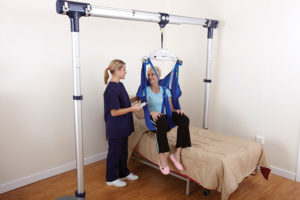 Free Standing Lift Systems
Bullock Access carries lift systems, similar to traditional Hoyer systems, which are free standing and do not need any installation.  They are lightweight and economical, and are quickly and easily assembled.  This type of lift is ideal when ceiling lifts and permanent track installations are not possible. They are available in electric or manual models.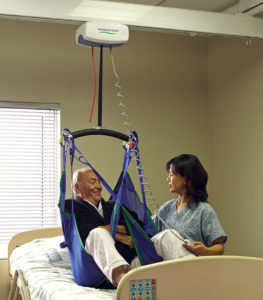 Ceiling Mounted Hoist Systems
Ceiling-mounted hoist systems provide the most efficient, safe, and comfortable way to lift and move people to many areas of their home. A fixed lift system provides higher lift capacity, and an unobtrusive carry bar. A fixed ceiling lift encompasses a powerful motor unit, which resides in the track system, and functions as a permanent transfer and lifting solution.
With a continuous rail system, a person can be transferred from bed to bath or over to the toilet or wherever the track is installed.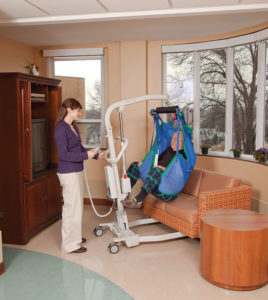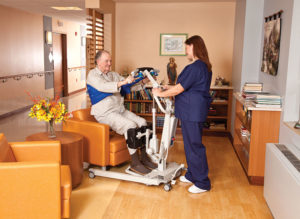 Floor Lifts (HOYER)
Bullock Access carries a wide variety of manual and electric Floor Lifts for multiple weight capacities including Sit-To-Stand Lifts.
Licensed Installation Experts
Bullock Access has been licensed to install equipment used to move people for over 20 years. The special elevator license is required in the state of Connecticut to install lifts. Without a licensed elevator installer, the safety of your transfer system may be compromised. In addition, our technicians have been trained and certified by Prism Medical, providing us with the expertise to ensure a safe and proper installation.
Interested in our lift systems? Call
860-870-7444