Wheelchair ramps serve to make an area handicap accessible.  Bullock Access has a wide variety of ramping systems to meet your exact needs, from the smallest of thresholds to the highest porches.  We can custom design your access ramp to fit your specific requirements.
Bullock Access is a dealer for two leading manufacturers of wheelchair ramps.
These ramps are code compliant from ADA and ANSI for the residential market, to IBC and BOCA for the commercial market. We are happy to advise you on any code questions you may have and discuss which system will meet your needs.
Licensed in CT
Serving CT & Western MA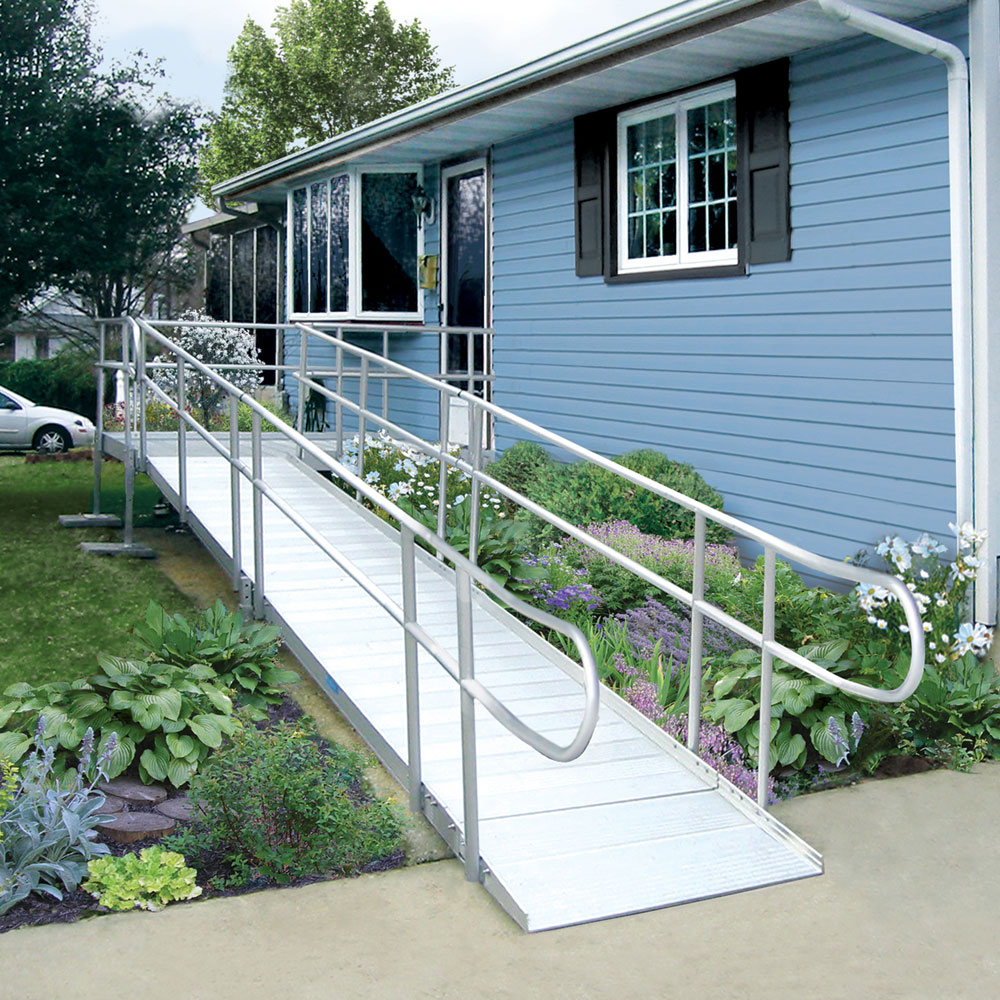 Modular Ramp System
Residential Wheelchair Ramp Systems are the most versatile of all the ramp styles. The welded aluminum construction offers a lightweight design, that is stronger and more durable than wood. These ramps can be disassembled and reused at different locations, and they can be set up in most any configuration. The aluminum surface is virtually maintenance free. Installation is quick and does not require a building permit since it can be considered a temporary structure.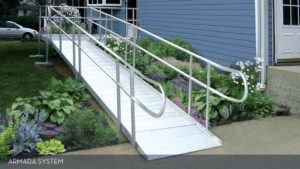 Commercial Ramp Systems
Commercial ramp systems meet the demands of more stringent codes. All aluminum, 4′ width, heavy duty construction, and 3 types of handrails available. Along with platforms and steps, this system can be configured to meet IBC, NBC, CABO, OSHA, Florida SREF, Texas TAS , ANSI, or ADA codes.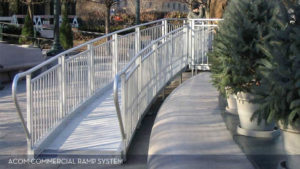 Mini Ramp Series
The MINI RAMP SERIES is a group of smaller portable ramps designed to be lightweight and easily moveable.
READY RAMP – This is an aluminum ramp that is used when a long ramp is needed, but it can be folded making it also portable. It folds to half of its length and half of its width so that it can fit in a car or van.
FOLDING CURB RAMP – Also known as a suitcase ramp, it is lightweight and folds in half. It is used as a ramp for scooters.
SOLID CURB RAMP – This is an aluminum ramp that is heavier and better as a fixed ramp. It is used when only a short ramp is needed and is great for scooters.
LANDSCAPE COLLECTION – These have all the features of the Alumilite ramps, but also have a powder coated finish available in four attractive colors to enhance your home's decor.
THRESHOLD RAMP – This is a lightweight aluminum ramp used primarily on small thresholds and 1 step obstacles up to 4″.
RUBBER THRESHOLD RAMP – This is the best option if you have a sliding glass door and small thresholds to 2 1/2″.
TELESCOPIC CHANNEL RAMP – This is a lightweight portable non-skid aluminum ramp which is good for manual wheelchairs.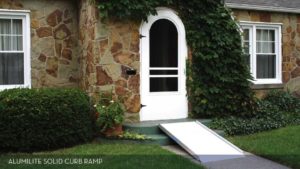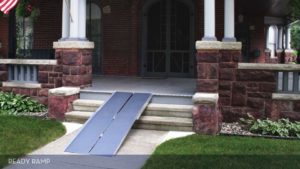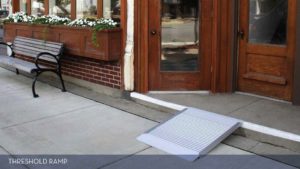 Interested in our ramp products? Call
860-870-7444